CORO Publishing offers high quality sheet music and rehearsal tracks at very reasonable prices all available online in order to keep the cost down to our choral patrons. You can purchase pieces published by CORO Publishing by contacting us. We can process your order with a credit card, or by billing your organization. Simply email us and we will make sure your order is completed within one business day.
For rehearsal tracks, proceed to the CORO Tracks page
Click the score image below to find more information, a perusal PDF, recording, and ordering options.
Oratorio
The Creation – Franz Joseph Haydn – SATB chorus, SATB solo, Full Orchestra
With a New English Translation by Philip Moody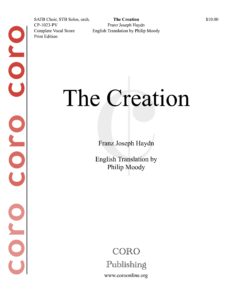 A  new English translation of Haydn's The Creation is the culmination of research by Dr. Philip Moody for his doctoral document at the University of Arizona. The translation is based on researching the original English text of Baron van Swieten; the German translation, provided by van Swieten, that Haydn used to compose the oratorio; original source material including the King James Bible and Milton's Paradise Lost; as well as modern language and syntax to more accurately represent the original English text. PV Scores, Full Scores, and Orchestral Parts are available
---
Mixed Choir
---
Treble Choir
---
Male Choir